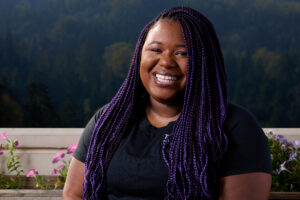 Chelsea McElroy (she/her/hers)
Placed at Center for Children and Youth Justice
What excites you about being part of the Pathwaves Fellowship? What are you hoping to gain from the experience?
Elevating the field of early learning, beyond the classroom and into the macro-level fields of early learning policy.
Share a little about your journey and why you are excited about early childhood policy work.
I have spent the last 17 years in direct service in early learning. As a preschool teacher, an afterschool program director, a social-emotional coach, and various titles in between. It has always been my goal to help parents advocate for their little ones. Learning systems and barriers for families propelled me into advocacy action and public office on my local school board. I want to show others the way and break down barriers for all those who encounter the systems of education and it begins at birth.
What are you looking forward to doing at your placement site?
I am thrilled to be placed with CCYJ. This opportunity will give me experiences in collaborative justice and management of systems of folks who care for the whole child within the child welfare system. Learning about the early childhood courts and systems created to reunify children and families is what most intrigues me about the work at CCYJ.
What are two things that most people don't know about you?
I play the flute & piccolo. I have 6 siblings and we're all hilarious
Learn more about our Fellowship