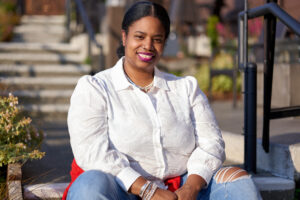 Reshonna Reynolds (she/her/hers)
Placed at MomsRising
What excites you about being part of the Pathwaves Fellowship? What are you hoping to gain from the experience?
I am excited to learn and understand more about advocacy and policy. I'm a roaring ball of fire and I just love advocating for others. I hope to gain more insight on how I can change the world for all the BIPOC kids and families. I hope to gain better leadership skills, more legislative understanding, media training, and a larger networking branch. I want my son to see my footprint in the change that people of color need to see.
Share a little about your journey and why you are excited about early childhood policy work.
I was a Montessori preschool teacher for 15 years. I started at the bottom and worked my way up to lead teacher and I love eduction. Teaching has always been a fun experience for me because I learn so much from my students. They challenge me everyday to become a better teacher and person in general.
Policy work in early childhood education is so critical and people need the awareness of how important the 0-5 years are for children. We should be pouring into these young children, and making sure that they know they can succeed!
What are you looking forward to doing at your placement site?
I'm looking forward to learning more content and creating more avenues to reach children of color. I'm excited to continue working on petitions and getting ready for my first legistlative session. I'm also looking forward to connecting more wtih my Washington team members, doing compensation design and someday getting that bill passed. I'm excited to meet more poeple outside of the MomsRising network and expanding my knowledge beyond early learning.
What are two things that most people don't know about you?
I'm really shy and I love taking naps
Learn more about our Fellowship