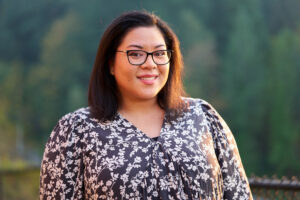 Sharissa Liam (she/her/hers)
Placed at Department of Children, Youth, and Families
What excites you about being part of the Pathwaves Fellowship? What are you hoping to gain from the experience?
I'm just so honored to have been chosen for this inaugural Fellowship. As someone who has been impacted by and has witnessed systemic injustices as a child, student, and educator, this is an incredible opportunity for professional development and to become a part of a growing network of leaders of color. I hope to gain the courage, confidence and opportunity to use my voice to share my lived experiences and the experiences of others in order to inspire progress. I also hope to deepen my knowledge of diversity, equity, social justice and inclusion practices.
Share a little about your journey and why you are excited about early childhood policy work.
I've been working in the field of education for over 15 years as a direct service provider. I've had the privilege of teaching in many environments and age groups from early intervention to high school. I am so excited about early childhood policy work as someone who has always been interested in advocacy, early childhood systems and policies, and am passionate about finding ways to better support our most vulnerable and marginalized communities. I hope to not only utilize my skills and experiences as a direct service provider but also my experiences as a person of color to make a positive impact in the world of early childhood education. I think one of the most exciting parts of the field is that it's always evolving. We are constantly exploring, learning, and adapting policies and systems to better support children and families. I want to be a part of the drive towards progress and change for more equitable systems.
What are you looking forward to doing at your placement site?
I feel so lucky to have been placed with the Washington State Department of Children, Youth, and Families (DCYF). I look forward to meeting people who are doing the work that I am interested in. I hope to not only learn but also draw inspiration from them. I look forward to learning about all of the different departments, divisions and projects in the works. DCYF is a huge agency and I think that will give me a lot of opportunities to observe and learn.
What are two things that most people don't know about you?
I've been hula dancing for over 5 years now. I love playing board and card games.
Learn more about our Fellowship