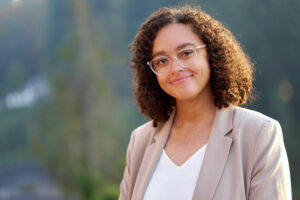 Zana Crites (she/her/hers)
Placed at One America
What excites you about being part of the Pathwaves Fellowship? What are you hoping to gain from the experience?
"What excites me the most is being in community with these amazing BIPOC women! I am excited to learn from each other and learn from our partners. We are all actively creating a collective power that will shift policies to reflect and accurately meet the needs of the communities most affected and represent the voices overlooked. Which to me is beautiful! Through this experience, I'm hoping to decern my place in policy and strengthen my knowledge and skills to feel comfortable working in tangent with legislators. I'm also excited to network with our current leaders in the early childhood field."
Share a little about your journey and why you are excited about early childhood policy work.
My background is in communications. I believe storytelling has the power to connect individuals together and to create change. I have been using my communication skills and applying that belief to the way higher education institutions serve students. It has been in higher ed where I have seen specifically how language in policies can affect an adolescent's academic journey. There is a need for communications in our policy spheres that not only provides clarity for all to understand but also helps connect different groups to the importance of that change. I want to help fill that need. Education has always been a passion of mine and I'm really excited to work at the first stages of one's education journey, early childhood. In addition to the environments that set early learners up for academic success, I'm interested in how multifaceted early childhood policy is. Specifically, looking at how it ties into other areas of policy and the growth opportunities within its realm.
What are you looking forward to doing at your placement site?
I'm looking forward to expanding dual language in early learning. Multilingual education has a powerful positive impact on a child's academic experience and growth. I'm also really excited to partake in OneAmerica's lobby days in Olympia!
What are two things that most people don't know about you?
1. I'm a published photographer and videographer
2. I tried out for teen jeopardy…and still hope to one day be on a game show!
Learn more about our Fellowship