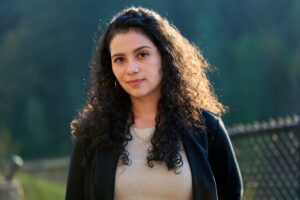 Fernanda Martinez Novoa (she/her/hers)
Placed at Childhaven
What excites you about being part of the Pathwaves Fellowship? What are you hoping to gain from the experience?
"I see Pathwaves as an opportunity to build a career in the public policy field based on my extensive early childhood experience and educational background. Getting space in the public policy field will allow me to elevate the voice of the communities I have served and contribute to the transformation of systems that have failed them for many years."
Share a little about your journey and why you are excited about early childhood policy work.
I came to the US nine years ago. I have always had a passion for equity, justice, and transforming systems. But as a new immigrant, my work options were limited, so my first job was as a child caregiver. Initially, I did not see the early childhood field as a career to follow, but as I advanced to new positions and was involved with different programs focused on early childhood, I learned more about child development, ACES, and the importance of support in the first 5 years of life. All this learning and experience, developed in me a great passion for the field, and beyond that, my work in direct services helped me to deepen my understanding of how investment in early childhood is not only foundational for the future of children, but it also has the power to change the life of their families, empowering communities and transforming societies. Working in early childhood policy brings me an opportunity to combine my expertise and my passion, to promote a more equitable society.
What are you looking forward to doing at your placement site?
Childhaven aims to increase its system change capacity by expanding its work in early childhood policy work. I am excited to be part of this new phase of the organization and to contribute with the expertise I gained as a direct services provider, and with the perspective that I can offer as a member of the BIPOC community.
What are two things that most people don't know about you?
"In my family of 3, everybody was born and raised in a different country!
I completed my studies in government and international relations."
Find me here:
Learn more about our Fellowship