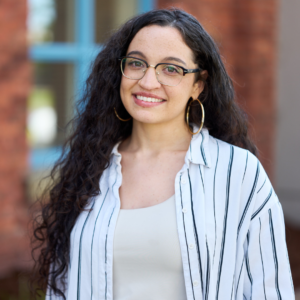 Samantha Grono (she/her/hers)
Placed at Voices of Tomorrow
What excites you about being part of the Pathwaves Fellowship? What are you hoping to gain from the experience?
I am excited to be a part of a community of such strong, smart, and dedicated women of color. I am looking forward to learning from the wealth of knowledge we all bring to the table and enhancing my leadership skills.
Share a little about your journey and why you are excited about early childhood policy work.
Since high school, I have become more and more invested in politics. When I was young, I wanted to be a lawyer. However, I ultimately chose to study speech-language pathology in college. This is where I really started paying attention to early childhood development, specifically surrounding language and literacy acquisition.
After earning my bachelor's degree I went on to work for AmeriCorps with Literacy First in Austin, TX. I got to work with young students and really see the inequities in our education system. This led me to pursuing my Master's in Education Policy at UW. I am so excited to put that policy learning into action. The country and state seem to have finally taken notice that our early childhood systems need major improvements, and I am excited to be a part of their advancement.
What are you looking forward to doing at your placement site?
I wholeheartedly believe in the mission of Voices of Tomorrow. I'm most looking forward to learning the specific needs of the community and having the chance to advocate for those needs in legislative and policy meetings. I'm also looking forward to learning about different initiatives and bills currently being discussed and negotiated across local and statewide platforms to understand their impact on both Voices of Tomorrow and early childhood systems as a whole.
What are two things that most people don't know about you?
I'm quite good at baking desserts, especially cheesecakes, banana bread, and cinnamon rolls. I also can pop my shoulder in and out of its socket (I thought it was really cool when I was a kid).
Learn more about our Fellowship