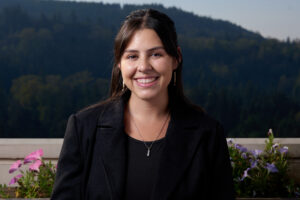 Sandra J Diaz (she/her/hers)
Placed at Washington State Association of Head Start and ECEAP
What excites you about being part of the Pathwaves Fellowship? What are you hoping to gain from the experience?
I am excited to be a part of a strong cohort of leaders of color who share the same passion. It fuels me to know that we will be making a difference, in very different ways. I hope to gain more knowledge on various policy topics and the political landscape. Additionally I look forward to fostering more confidence in my voice and building meaningful professional relationships.
Share a little about your journey and why you are excited about early childhood policy work.
Beginning as a preschool teacher, I knew I was passionate about early learning. Working with kids was my favorite part of the day, but I quickly realized all the flaws within the system. Because of that experience, I wanted to be advocating for the families I saw myself in at the system-level. I am excited about early childhood policy work because it has a strong foundation in community.
What are you looking forward to doing at your placement site?
I am looking forward to connecting with ECEAP providers, sharing stories, interacting with legislature, brainstorming and advocating for policy changes. I look forward to becoming a better leader, voicing my concerns, voicing with my team my thoughts on legislative actions and creating plans to better advocate for our families and kids. I look forward to changing my mind and changing my mind again.
What are two things that most people don't know about you?
As an undergraduate studies I minored in psychology and religious studies. I also enjoy extreme horror movies.
Find me here:
Learn more about our Fellowship