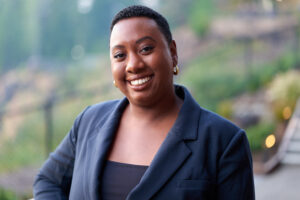 Shaterra Overton (she/her/hers)
Placed at Council for a Strong America | Ready Nation
What excites you about being part of the Pathwaves Fellowship? What are you hoping to gain from the experience?
I'm really passionate about cohort-model programs like Pathwaves, because I think you can benefit so much more than you can by striking out on your own. I have already learned so much from my co-fellows in such a short amount of time, and I'm infinitely grateful to be in the company of such incredible women of color. The substantial and genuine investment that Pathwaves is making to open doors for emerging BIPOC leaders is what I feel sets this apart from other fellowship opportunities that I've encountered. Through Pathwaves, I'd like to gain the skills and confidence to build a meaningful career in policy and advocacy, as well as a strong network of colleagues (and friends!) that I hope to work with for many years to come.
Share a little about your journey and why you are excited about early childhood policy work.
Before Pathwaves, I taught math and STEM to kids in a variety of settings: in a museum; as a research facilitator; in the classroom; and as an assistant camp director. My greatest goal as an educator was to make STEM more accessible and equitable for all kids, but especially girls and students of color. A policy and advocacy class in my master's program eventually paved the way for me to consider this as the next step in my career. Now after almost a decade working with youth, I'm looking forward to making more widespread contributions to education through public policy. And I'm really excited to learn more about the early childhood landscape in Washington state after working with older kids. It's clear that early childhood policy has such a positive, lifelong impact on kids' lives and I can't wait to be a part of that!
What are you looking forward to doing at your placement site?
I was drawn to ReadyNation because of their evidence-based advocacy strategies, and how they're able to highlight both the short- and long-term economic effects of early childhood investments. I'm excited to identify salient data to develop ECEAP fact sheets and legislative talking points, and to finally see full legislative and budget cycles in action! And given that ReadyNation is housed under a national organization, I'm grateful for the opportunity to gain a firsthand perspective of both their federal advocacy efforts as well as those at the state level.
What are two things that most people don't know about you?
I played the trombone for 12 years (if there were such a thing as post-college marching band, I probably would have tried to join!); In high school, I won a Dance Dance Revolution tournament at an arcade and used the prize money to buy a graphing calculator
Find me here:
Learn more about our Fellowship